This shrimp paella made in my Instant Pot pressure cooker will knock your socks off. And if you're not wearing socks, It'll make your toes curl. Not only does it have tons of flavor, it comes together so quickly with only a Five minute high pressure cook time in the Instant Pot. This post may contain affiliate links, please read my full disclosure here.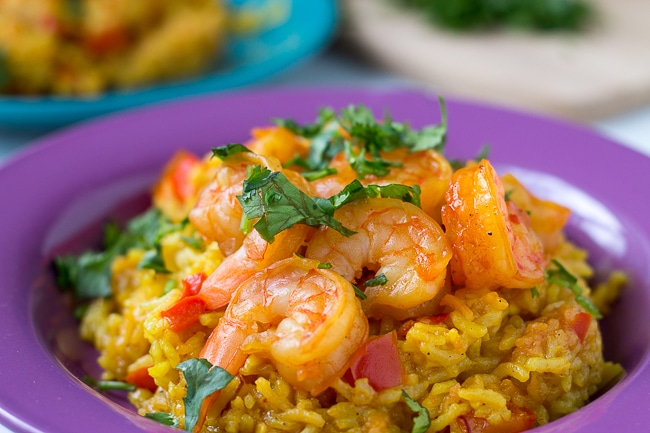 I'm bizack with another Instant Pot recipe…and I'm super excited to share this one because it's such a quick and easy meal.
Although I love to cook, most weeknights I'm exhausted and I'd rather not stand in front of the stove. I'd rather not dirty up pots and pans. I'd rather order out but then my bank account says "no ma'am." It's days like that that recipes in my Instant Pot are so important. If you haven't gotten an Instant Pot yet, you're so missing out. It is one of my all time favorite kitchen appliances, outside of my oven.
I go on and on about it in my post of Instant Pot Jamaican Cornmeal Porridge so I won't do that again here. But for those that don't know, it's an electronic pressure cooker that pretty much cuts cooking time in half. It has a sauté function that makes it great for browning meats and softening onions that are part of meals.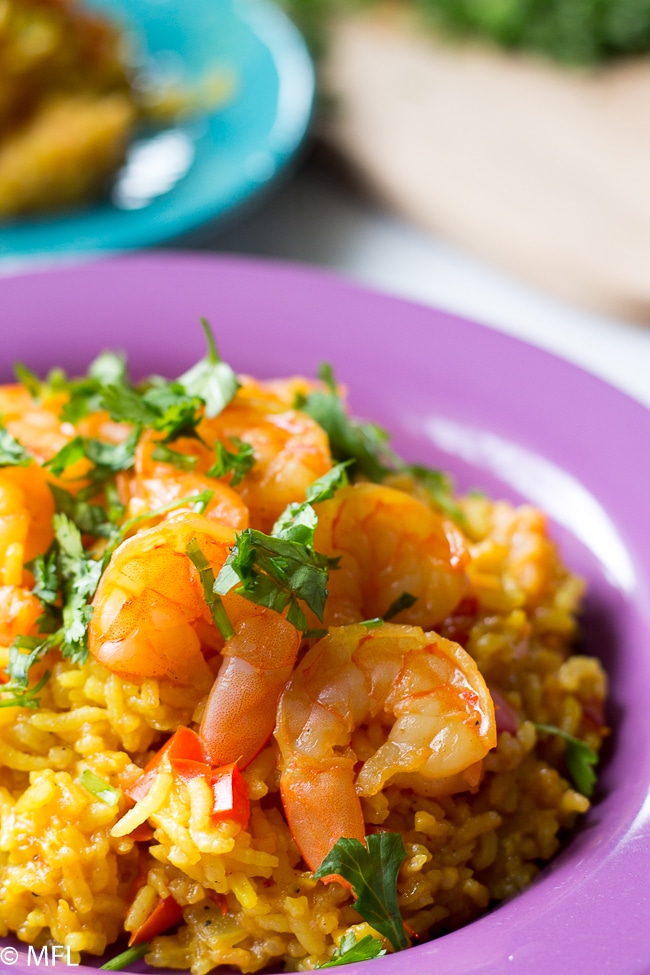 Alrighty, so about this Instant Pot pressure cooker shrimp paella. Well I always keep a bag of raw frozen shrimp in our freezer at home. I love frozen shrimp because the defrost time is so quick and the cook time of shrimp is so fast. The great thing about this recipe is that you don't even have to defrost the shrimp. It's a literally a throw it in the pot kind of recipe. And if you prep your ingredients ahead of time by chopping the onions, peppers, and garlic…well my friend, you may break the record for the quickest dinner on the table.
I remember the first time I made this for my family, my daughter literally was shocked and thought I ordered out and didn't tell her. She couldn't believe how quickly dinner was done. I just told her I was Super Mom. She was indeed impressed.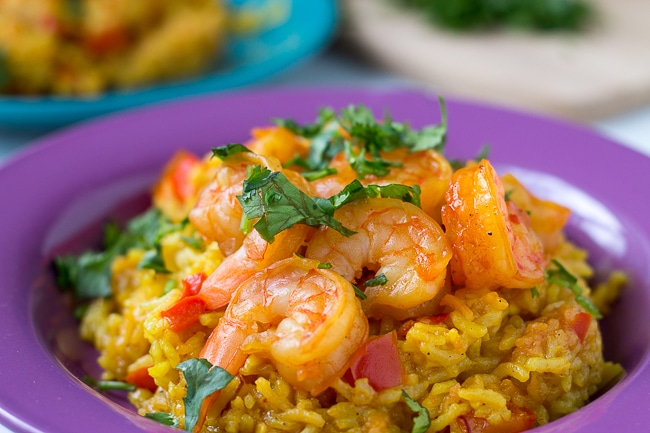 People don't generally think of cooking shrimp in the pressure cooker. That makes sense because shrimp cooks quickly and if it's not done right it can lead to a rubbery mess. The key to avoiding this of course is a short cooking time and using jumbo frozen shrimp with shell on. This will ensure your shrimp is perfectly cooked.
The only slight annoyance with this recipe is the taking the shell off after cooking and before serving. Honestly, it's up to you how you handle that part. On days I'm really tired, hubby and daughter are on their own when it comes to taking off the shells. On other days, I remove it for them so I don't hear their whining.
I've include step by step photos of how to cook this meal in the Instant Pot. I remember when I first got my Instant Pot I was lost on how to operate it. After pressing buttons and reading the manual 4 times, I figured it out. Well, as always, Enjoy 🙂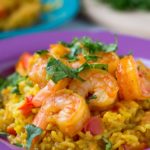 Instant Pot Pressure Cooker Shrimp Paella
Ingredients
1

lb

jumbo shrimp, shell and tail on

frozen

1

cup

Jasmine rice

4

Tbsp

butter

1

onion

chopped

4

cloves

garlic

chopped

1

red pepper

chopped

1

cup

chicken broth

1/2

cup

white wine

1

tsp

paprika

1

tsp

turmeric

1/2

tsp

salt

1/4

tsp

black pepper

1

pinch

saffron threads

1/4

tsp

red pepper flakes

1/4

cup

cilantro

optional
Instructions
Set Instant Pot to Saute function. Add butter to pot and melt. Add onions and cook until softened. Add garlic and cook for about a minute more.

Add paprika, turmeric, salt, black pepper, red pepper flakes, and saffron threads. Stir and cook for about 1 minute. Add red peppers.

Add rice and stir. Cook for about 30 seconds to 1 minute. Add chicken broth and white wine, making sure all rice is covered.

Add shrimp on top. Turn off Instant Pot and cover. Make sure valve is set to sealing.

Set Instant Pot to Manual Mode and set a 5 minute timer. When done, quick release.

Remove shrimp from pot and peel if desired. Serve with Cilantro.
Recipe Notes
Make sure there are no dry bits stuck to the bottom of the pot. This could result in that annoying "burn" signal some pressure cookers give off. Once you add your broth (but before you place frozen shrimp on top), stir with a wooden spoon to ensure there is no food stuck to the bottom. 
This recipe was prepared in a 6qt Instant Pot. Please adjust accordingly for 3qt and 8qt models. 
Nutrition Facts
Instant Pot Pressure Cooker Shrimp Paella
Amount Per Serving
Calories 318
* Percent Daily Values are based on a 2000 calorie diet.
Nutrition Facts
Serving Size
Servings Per Container 4
---
Amount Per Serving
Calories 318
Calories from Fat 118.8
% Daily Value*
Cholesterol 253.3 mgmg
84%
Total Carbohydrate 478.3 mgg
159%
---
*Percent Daily Values are based on a 2,000 calorie diet. Your daily values may be higher or lower depending on your calorie needs.
Step by Step Photos of Instant Pot Pressure Cooker Shrimp Paella
Adapted from Health Starts in the Kitchen.
Pin Pressure Cooker Shrimp Paella for Later 🙂

Need More Instant Pot Dinner Recipes? Try My Pressure Cooker Turkey Chili or my Pressure Cooker Salmon recipe.