This post is sponsored by Southern Breeze Sweet Tea. All opinions are my own.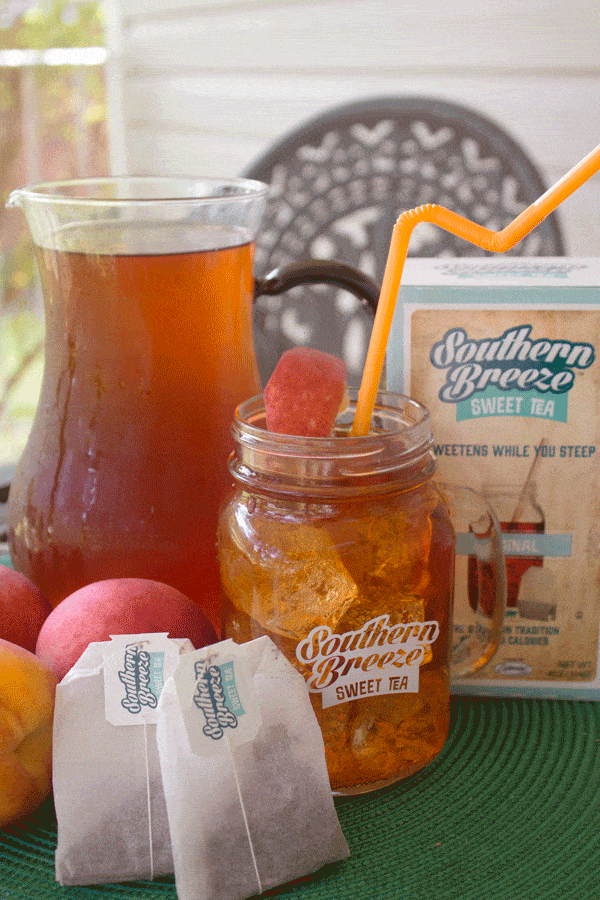 My all time favorite season is summer! I got married on the first day of summer. I dream of summer in the winter. If I could put summer in my pocket and keep it year round I would. I can't control my excitement that the warm weather is finally here!
You know what that means in the South? Fireflies, porch sitting, and Sweet Iced Tea!
Well, let me correct myself. People in the South drink sweet tea year round, not just in the summer. However, mixing a pitcher of sweet tea and sitting on your front porch waving to neighbors is a great way to spend a Saturday afternoon. As a matter of fact, sitting on your front porch drinking this Peach Sweet Tea and Rum and waving to neighbors is a great way to spend a Saturday afternoon.
This Peach Sweet Tea and Rum drink was created using Southern Breeze Sweet Tea.  These tea bags are not your typical tea bags. The cool thing is they come in Family Pitcher sizes already. No need in finding 10 tea bags to make 1 pitcher of iced tea, all you need is 2 of these Family Sized bags.  
How much sugar should you add when making sweet tea? A question you don't need to ask when using Southern Breeze Sweet Tea because the sweetener is in the bag! What a win with this no sugar sweet tea!
Feel free to make this tea on its own without the addition of alcohol or fruit. I added peaches and rum into my tea because….well I have no good reason, it's rum and peaches, why not?
This drink is a breeze to make and you will enjoy sitting on your porch waiving and cheesing at everyone as they walk by. You may even catch yourself smiling and waving at that neighbor who you secretly dislike.
Here are the recipe deets:
Prepare your Southern Breeze Sweet Tea by bringing 2 quarts of water to a boil.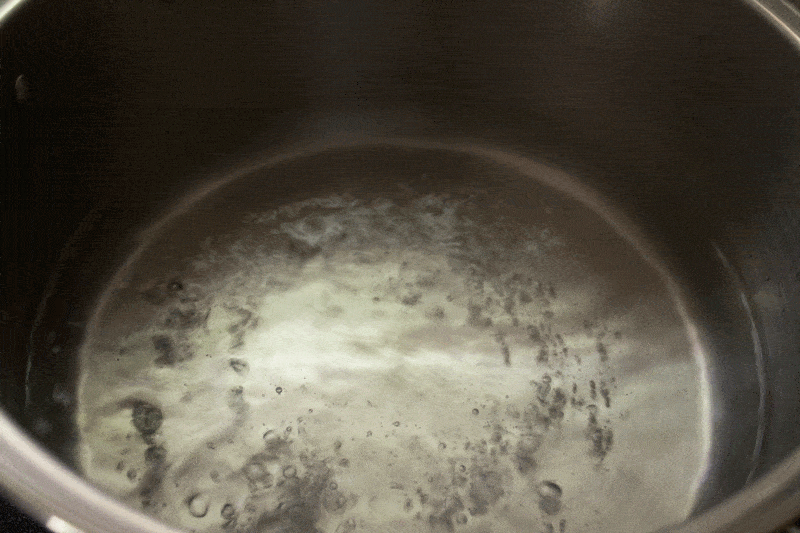 Once boiled, add water and 2 Family Sized Tea Bags to a pitcher and let steep for about 5 minutes.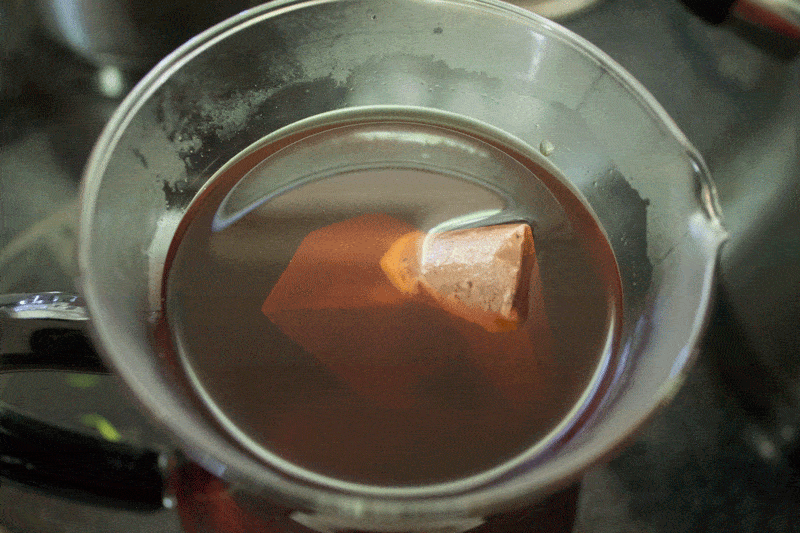 Remove the bags and discard. Place pitcher in fridge to cool.
Once cooled, Slice 2 ripe peaches and add to the pitcher. Add ½ cup of dark rum.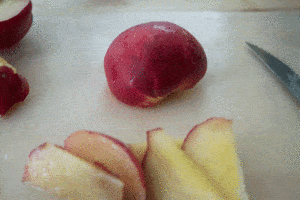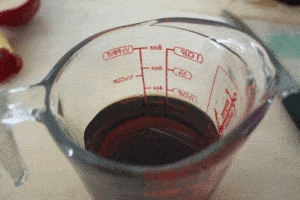 Stir and serve over ice. Enjoy 🙂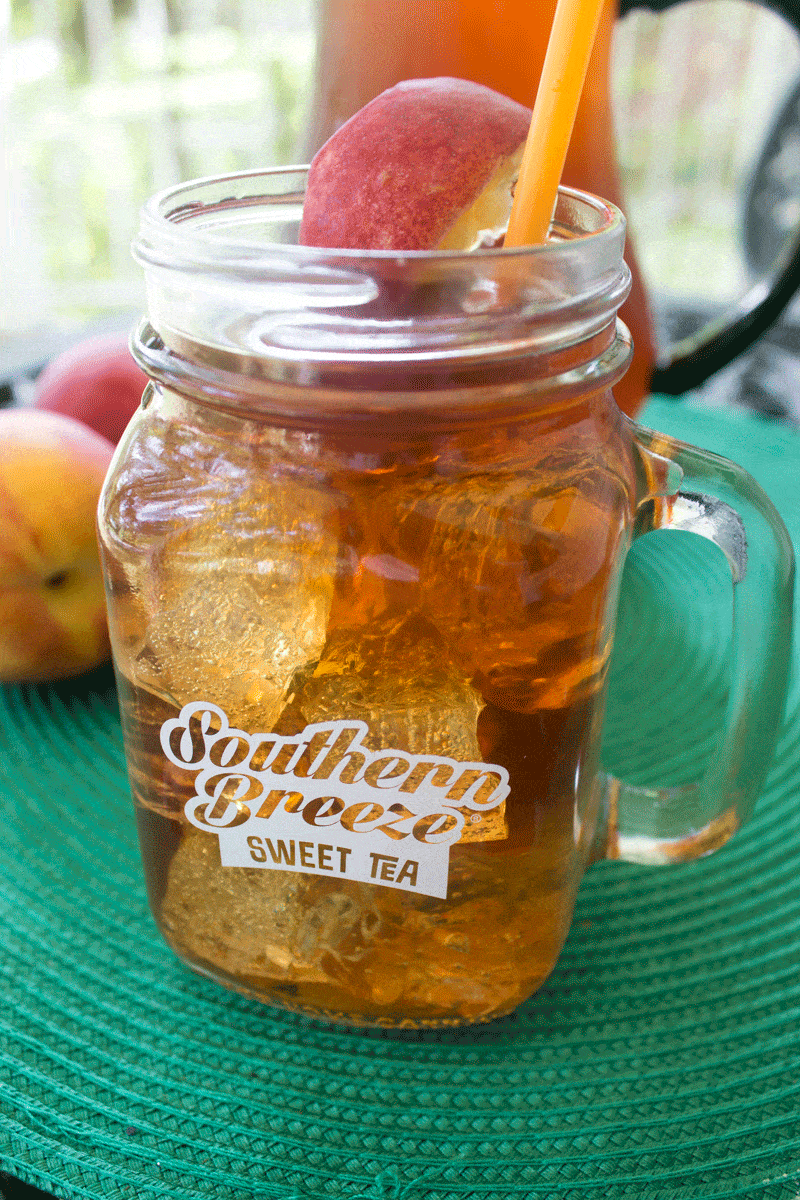 *Southern Breeze Sweet Tea is zero calories and contains the sweetener in the bag along with the tea leaves. It comes in a variety of flavors for all you sweet tea lovers out there.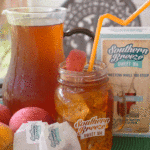 Peach Sweet Tea and Rum
Ingredients
2

Family Sized Southern Breeze Sweet Tea

Original Flavor

2

quarts

of water

2

ripe peaches

1/2

cup

dark rum
Instructions
Prepare your Southern Breeze Sweet Tea by bringing 2 quarts of water to boil.

Once boiled, add water and 2 Family Sized Tea Bags to a pitcher and steep for about 5 minutes. Remove the bags and discard.

Place sweet tea in fridge to cool.

Once cooled, Slice 2 ripe peaches and add to the pitcher. Add ½ cup of dark rum. Stir and serve over ice. Enjoy 🙂