These lemon crinkle cookies from scratch are perfect for beautiful sunny days. This post may contain affiliate links, please read my full disclosure here.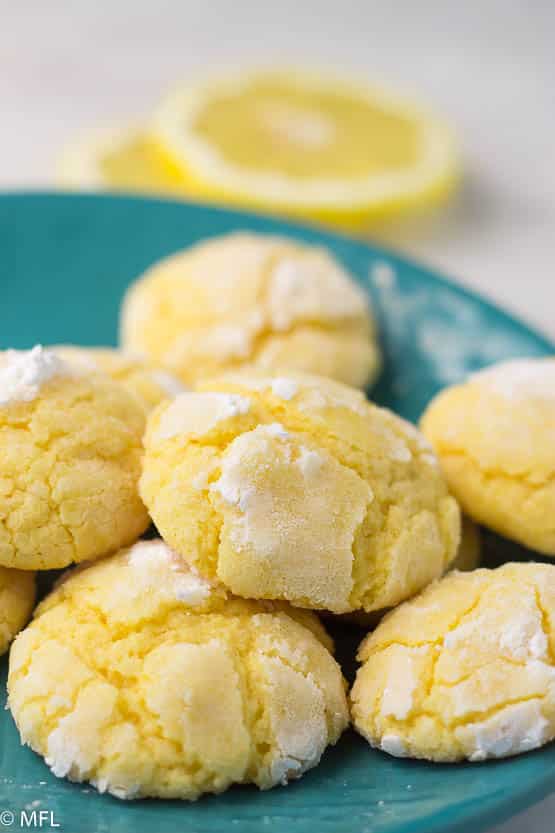 I have a love love relationship with lemon flavored everything. I love lemonade, I love lemon meringue pie, and I love lemon cookies. I decided that I had to make lemon crinkle cookies from scratch for the Spring.
My initial search for a lemon crinkle cookie recipe led to many recipes that used cake mix as a main ingredient. I have no problem with using cake mix in baking but that's not something I usually have on hand. On the other hand, I always have butter, flour, sugar, and lemons. Food coloring usually isn't a common ingredient found in my kitchen but lately that has changed. My macaron baking addiction has led me to buy lots of food coloring. Also, Easter is near and eggs must be dyed.
I think crinkle cookies are so darn cute. I had to do a lot of testing and research to understand how to get these cookies just the way I wanted, soft, crinkly, and lemony. This recipe does just that.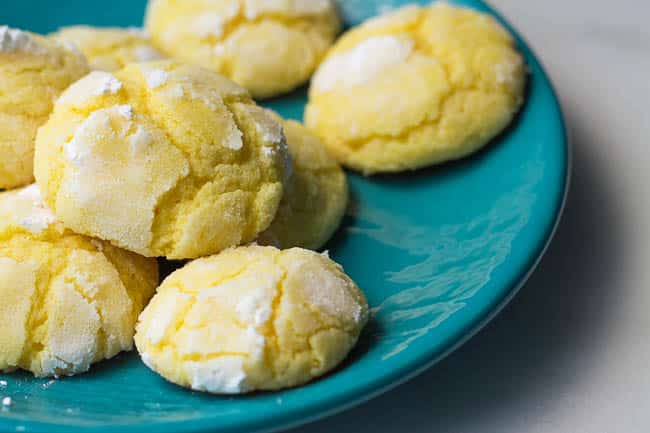 So what's the secret to getting that crinkle powders sugar look on top? A few things. Make sure your dough is a room temperature when it is rolled. Most cookie dough is refrigerated for a bit before baking which causes the cookies not to spread. Crinkle cookies should spread, hence a room temperature dough works best.
Roll your cookies in granulated sugar first before you roll it into the powdered sugar. The granulated sugar will get absorbed into the cookie while baking, allowing your powdered sugar to remain and not disappear in the baking process. A good crinkle cookie has plenty of nice baked powdered sugar on top.
I hope you enjoy this lemon crinkle cookie recipe as much as we do.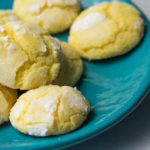 Lemon Crinkle Cookies From Scratch
Ingredients
1 1/2

cups

all-purpose flour

1/4

teaspoon

baking powder

1/4

teaspoon

salt

1/8

teaspoon

baking soda

1/2

cup

butter

8 tablespoons, softened

1

cup

granulated sugar

1/2

teaspoon

vanilla extract

1

large egg

1.5

teaspoon

freshly grated lemon zest

1

tablespoon

freshly squeezed lemon juice

1/4

cup

granulated sugar

1/4

cup

powdered sugar

yellow food coloring

optional
Instructions
Preheat oven to 325 degrees.

Combine flour, baking powder, baking soda, and salt in bowl. Set aside.

Cream butter and sugar until light and fluffy. Add egg, vanilla extract, lemon zest and lemon juice and mix well.

Pick 1/2 tablespoons of the the dough and roll into ball. Place granulated sugar and powdered sugar in separate shallow plate. Roll cookie dough in granulated sugar, then in powdered sugar. Then place balls on baking sheets.

Bake in preheated oven for for 14-16 minutes. Remove from oven. Finish cooling on cooling rack.
*Recipe edited to add yellow food coloring.
Nutrition Facts
Serving Size
Servings Per Container 24
---
Amount Per Serving
Calories 111.8
Calories from Fat 36
% Daily Value*
Total Carbohydrate 18.5g
6%
---
*Percent Daily Values are based on a 2,000 calorie diet. Your daily values may be higher or lower depending on your calorie needs.
Adapted from Mel's Kitchen Cafe.
Pin Lemon Crinkle Cookies From Scratch