This easy pumpkin cookie recipe makes the perfect soft cookie for the Fall. You can't go wrong with pumpkin and white chocolate.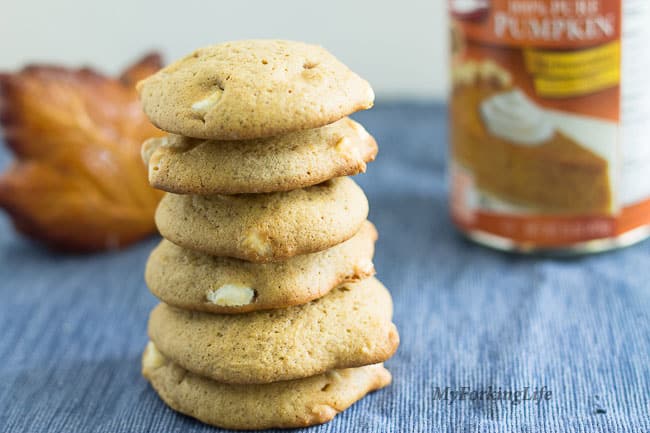 It's Pumpkin season, It's Pumpkin season!!! I had to get a recipe with pumpkin in it on the blog. I have created this easy pumpkin cookie recipe for all my pumpkin lovers. Even my non pumpkin lovers will love this one.
Now I know some people are getting so tired of pumpkin. Every Fall, the pumpkin flavor takes over our coffee creamers, our breads, and our soups. There are times when I get a little sick of pumpkin myself. But like a bad habit, I can't shake the pumpkin love. So I joined in and decided to make these pumpkin cookies.
This cookie recipe really tested my knowledge on baking a cookie. You know, there is an art to this stuff. I made multiple batches of this cookie recipe to get the right flavor, texture, and color. I was ecstatic when I finally found it. I brought these pumpkin cookies to work and it was coworker approved! They loved them! And if you're wondering, my coworkers are awesome and they keep it all the way real.  So if they say they're good, then they're good.
I added white chocolate chips to this pumpkin cookie recipe because I love white chocolate. I found that it was a great combination with the spices and the pumpkin flavor. Funny thing though, my daughter hates white chocolate so she ate all the cookie pieces around it. She's funny because although she hates white chocolate now, I assure you that in a few weeks she will be all about it.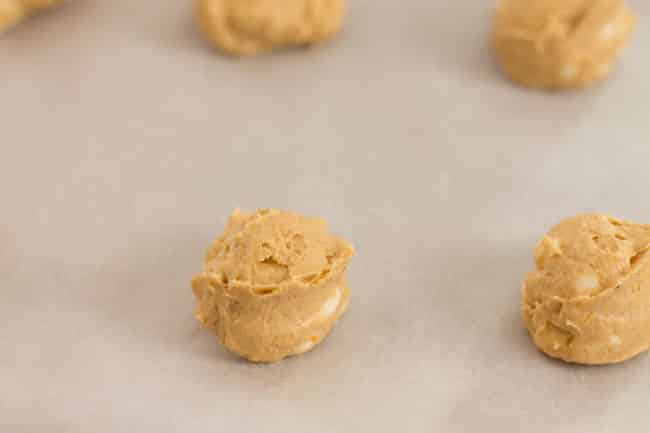 These cookies come together with ease. I just put the ingredients in my stand mixer, stared in amazement as it mixed on its own, and plopped these babies on a baking sheet with parchment paper. Your house will smell so good while these pumpkin cookies are baking.
Check out the video below for visual instructions on how to make these yummy pumpkin cookies. As Always, Enjoy 🙂
Easy Pumpkin Cookie Recipe
Ingredients
1/2 cup butter, softened
3/4 cup white sugar
1/4 cup brown sugar
1 egg
1 tsp vanilla
1 1/2 cup flour
1 tsp baking soda
1 tsp cinnamon
1/2 tsp nutmeg
1/4 tsp ginger
1/4 tsp salt
1/2 cup pumpkin, canned
1 cup white chocolate chips
Instructions
Preheat oven to 350 degrees F.
Combine flour, baking soda, cinnamon, nutmeg, ginger and salt in a bowl. Set aside.
Mix butter in mixer until light and fluffy. Add white and brown sugar and mix.
Add egg and vanilla.
Add pumpkin.
Add flour mixture slowly.
Add in white chocolate chips and stir until combined.
Place on cookie sheet, about 2 inches apart with a rounded cookie scoop.
Bake in oven for about 12-14 minutes, or until the cookies are golden.
Remove from oven, allow to cool on baking sheet for 5 minutes. Then transfer to cooling rack to complete cooling. Enjoy 🙂
https://myforkinglife.com/easy-pumpkin-cookie-recipe/