I was recently invited out to eat at Fleming's Prime Steakhouse & Wine Bar by the Dine Rewards program. It was perfect timing too as hubby and I hadn't had a date night in a while. Shout out to my friend Pretty Girl Loc for babysitting.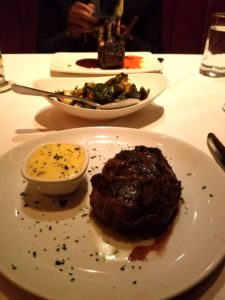 So what exactly is Dine Rewards? I'm glad you asked. It's a loyalty program ran among the four following restaurants, Outback Steakhouse, Carrabba's Italian Grill, Bonefish Grill, and Fleming's.
Whenever you eat at one of the restaurants, you can earn what's called a "qualified visit." You must spend $20 on food and non-alcoholic beverages at Outback, Carrabba's, and Bonefish in order to receive a qualified visit. You must spend $40 at Fleming's. Once you've made three qualified visits within 6 months, you earn 50% off your next visit. This is perfect for individuals or families who love taking the time out to eat at some of these restaurants. It's great because you have the variety of restaurants to choose from.
…