This Jamaican Callaloo and Saltfish recipe is the perfect main course or side dish for any meal. Generally eaten for breakfast in Jamaica, this delicious dish can be served at any time of the day. This post contains affiiliate links, read my full disclosure here.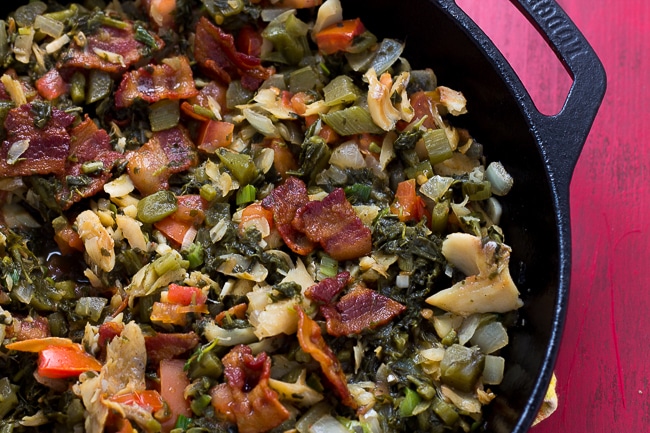 What a gwan?
Translation: What is going on?!?
You gon fi luv mi callaloo n sal fish recipe.
Translation:You are going to love my callaloo and saltfish recipe.
I love speaking Jamaican patios but my mom tells me I sound horrible when I try. Although I was raised in a Jamaican household, I was raised in the lovely states of Maryland and Florida and only visited Jamaica once in a while. When I speak patios I sound like the actors in Cool Runnings
. Great movie but horrible accents. Moving on…
I was honored to be invited to a Black History Month Virtual Potluck, organized by Meiko of Meiko And The Dish and Aaron of The Hungry Hutch. This potluck will include 28 of some of the best black food bloggers in the world. We are talking Southern, African, Caribbean, Creole…all kinds of amazing recipes.
…