This Cinnabon Waffles Recipe is delicious and easy to make. Enjoy this sweet treat in celebration of Spring. This post may contain affiliate links, read my full disclosure here.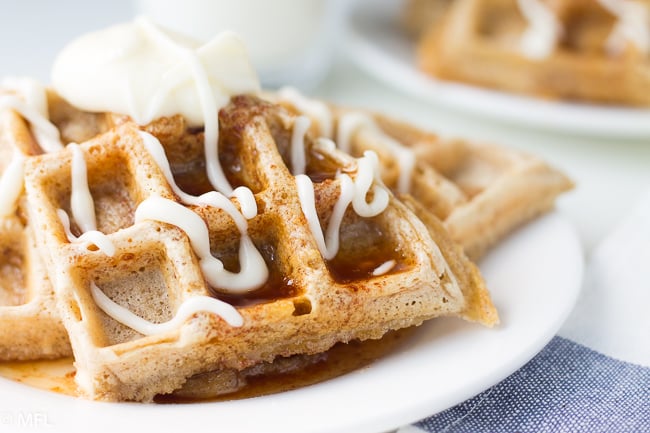 So Spring is here! Hooray! Other than my allergies acting a fool, I love Spring because it means we are one season closer to my favorite season, Summer! Another cool thing about Spring are all the cool foodie holidays that happen during this time. In honor of these foodie Holiday recipes, I've included a few recipes from a few other bloggers below.
National Waffle Day is on March 25th and I decided to represent with this Cinnabon Waffle Recipe!!! Why a Cinnabon Waffle?? Well I  love, love, love, love Cinnabons. They are my favorite mall treat. I love them so much that one time, on a road trip home from Maryland, I made my husband get off the highway because I swore I saw a Cinnabon sign. Well…there was no Cinnabon off that exit, apparently no sign, and 10 minutes added to our trip. Oooops. It was at that time that I realized I had it bad for this sweet treat.
I've actually made copycat Cinnabons from scratch a few times but in order to get the dough just like I like it, it takes a whole lot of mixing and rising which means a whole lotta waiting. So I needed a faster fix and decided using my waffle iron would be much better.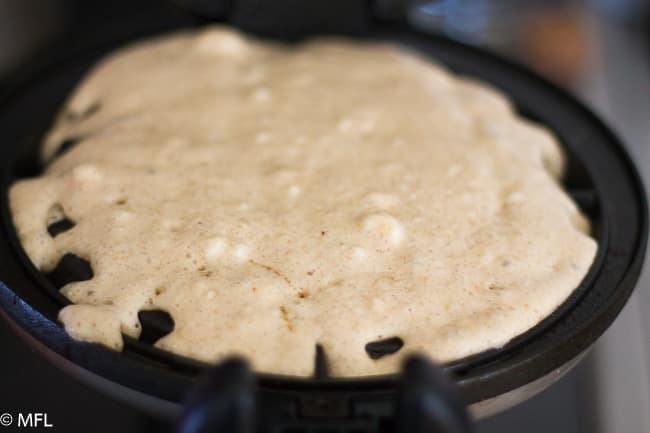 I tend to make this Cinnabon Waffles recipe alone or with a side of fried chicken for some good ol' Chicken and Waffles. Great thing is if I make them for dinner, I just pack up any leftover waffle batter and enjoy waffles for breakfast too.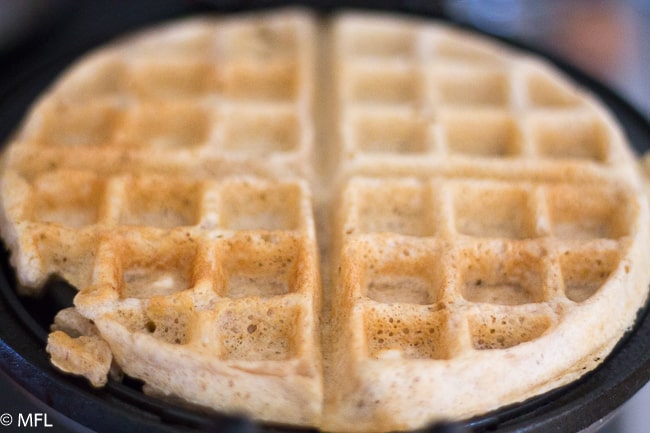 This recipe does take a few steps but the results are the perfect waffle for Waffle Day. Perfectly waffled waffles with a brown sugar topping and cream cheese glaze. So yum.
Don't forget to check out some of the other post for some other great foodie holiday recipes. Until next time…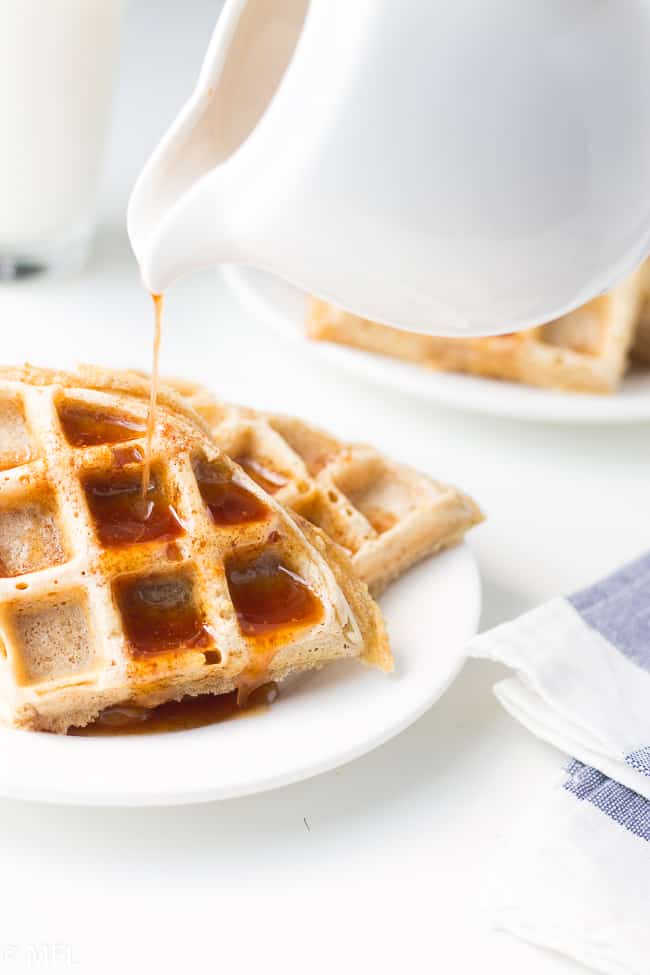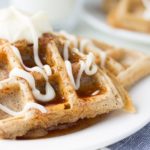 Cinnabon Waffles
Ingredients
1 3/4

cup

all purpose flour

1

Tbsp

baking powder

1

Tbsp

sugar

1

tsp

cinnamon

1/2

tsp

salt

1

tsp

vanilla extract

3

eggs

1/2

cup

butter

melted

1 1/2

cup

milk
Cinnamon Sugar Topping
1/2

cup

butter

3/4

cup

brown sugar

1

Tbsp

cinnamon
Cream Cheese Topping
4

Tbsp

butter

2

ounces

cream cheese

3/4

cup

powdered sugar

1/2

tsp

vanilla extract

2

Tbsp

milk
Instructions
Combine all purpose flour, sugar, salt, and cinnamon in a bowl. Set aside.

Separate eggs, placing egg whites in a mixing bowl and whip egg whites until stiff peaks form.

In another bowl, combine egg yolks, vanilla extract, melted butter, and milk and stir. Add dry ingredients and stir until combined.

Fold in egg whites until egg whites disappear in batter.

Place on preheated waffle iron and cook until done.

Assemble waffle by topping with cinnamon sugar and cream cheese toppings. Enjoy 🙂
Cinnamon Sugar Topping
Place butter, brown sugar, and cinnamon in a pan over medium-low heat. Stir until butter melts and mixture starts to slightly bubble. Remove from heat.
Cream Cheese Topping
Mix butter and cream cheese together with mixer until combined and fluffy. Add powdered sugar, vanilla, and milk.
Nutrition Facts
Cinnabon Waffles
Amount Per Serving
Calories 554.5
* Percent Daily Values are based on a 2000 calorie diet.
Nutrition Facts
Serving Size
Servings Per Container 8
---
Amount Per Serving
Calories 554.5
Calories from Fat 306.9
% Daily Value*
Total Carbohydrate 64.2g
21%
---
*Percent Daily Values are based on a 2,000 calorie diet. Your daily values may be higher or lower depending on your calorie needs.
Notes on Cinnabon Waffles Recipe
You can use almond milk or regular milk. I've used both with no problems.
Prior to making these waffles, preheat oven to 250 degrees. Once waffles are done, place on baking sheet in preheated oven to keep waffles warm.
These are so good with a nice tall glass of milk.
Hello Spring Collab Recipes
March 20th National Ravioli Day
Biscuits & Savvy | Spinach Ravioli with Ricotta Bacon Filling
March 23rd National Chips and Dip Day
Stay Snatched | Smoked Cheddar Jalapeno Bacon Dip
March 27th National World Whiskey Day
Taste of Kay | Brown Girl Lemonade
March 30th National Turkey Neck Soup Day
LeShe Style | Smoked Turkey Neck Soup
Pin Cinnabon Waffles Recipe for Later