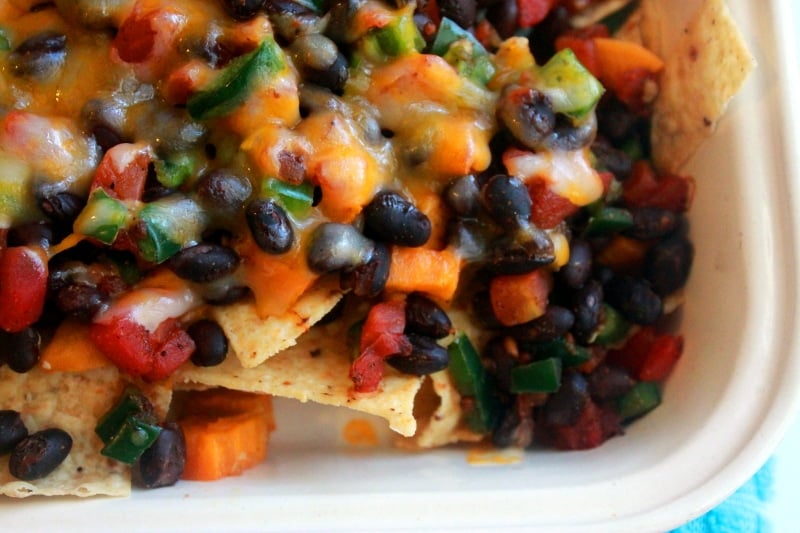 I love black beans. I mean love love love black beans. I mean if I could have them for breakfast, lunch, and dinner I would. Beans, beans good for your heart…the more you eat, the more you…well, you know. My love for black beans is strong. My daughter loves back beans too. My hubby…well he claims he is allergic so black beans petty much are non-existent in my kitchen. Bummer.
When spring break for daughter came around, hubby went at work and daughter and I stayed home creating wonderful recipes during the day. So I decided to create this recipe one day and send him photos to make him jealous. It just seemed appropriate.
So here are the details to this beauty…
First, gather all your ingredients. Don't mind the tablet in the photo, I like to catch up on my tv while I cook. Preheat your oven to 425 degrees.

Next, chop 1 medium sweet potato, 1 medium sized onion, and 3 cloves garlic. Place in a baking dish and pour about 2 TBSP olive oil and sprinkle with a little salt and peppa. Stir to coat veggies with oil and bake for about 25 minutes, or until potatoes are tender.
While that is baking, chop 1 poblano pepper and 2 jalapeno peppers, making sure you remove the seeds. Seeds make it a little too spicy. I leave about 1 or 2.
Next, combine your peppers, 1 can of black beans (rinsed), 1 can of mexican style diced tomatoes (drained), 2 tsp chilli pepper, and 1/2 tsp ground cumin in a bowl and set aside.
Doesn't that look so yummy already? Well it gets even better!
Once your potatoes are done, remove them from the oven.
Lay your tortilla chips on a 8×15 baking dish. Top with sweet potato and onion. Next, top with that beautiful black bean mixture. Next, top with 1 cup shredded cheese.
Place baking dish in oven for about 5 minutes, until your cheese has melted.
All the yumms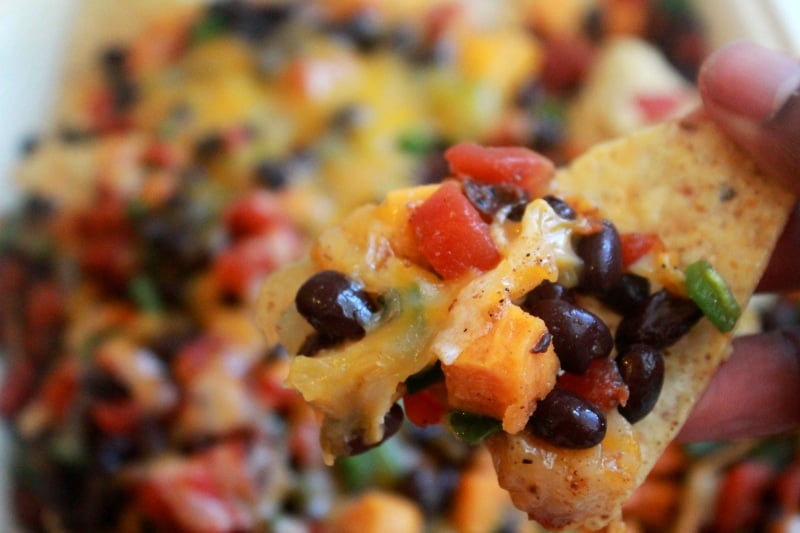 [amd-yrecipe-recipe:16]